SOLsearcher™ Enterprise is able to return search results to end users with amazing speed. This is due to the fact that SOLsearcher does not perform full text searches. Instead, SOLsearcher uses an indexing template to limit the search operation to areas on the page that are known to hold valuable information.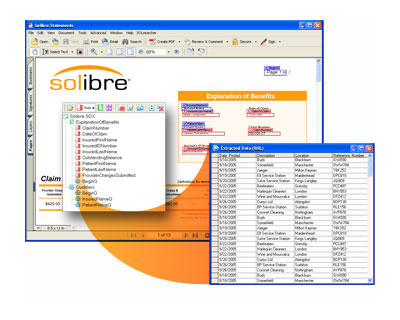 The SDX Designer is a Windows®-based application that leverages Adobe Acrobat® with an easy to use UI to quickly design, test and manage the SOLsearcher Enterprise indexing templates, known as SDX files. The SDX Designer supports the creation of Index, Qualifier, Report and Table objects, allowing users to develop rule-based indexing parameters that ensure only relevant information is captured. The resulting indexes can be associated with familiar key words, such as "Account Number" or "Client Name", to facilitate the search process.
The SDX Designer requires Windows® XP Pro and Adobe Acrobat 8.x or above.
SDX Designer Deployment
Version managed component from the SOLsearcher Enterprise System Manager
Standalone that is installed separately on a computer that is not hosting any other SOLsearcher components